The House of LISE BACCARA once again awarded!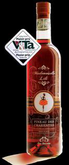 The Pineau des Charentes rosé "Mademoiselle Lili" of LISE BACCARA has won the "Prix-Plaisir" award from the major Belgian guide for wine lovers and professionnals "Vins & Terroirs Authentiques" :
"Quite concentrated ruby robe, clear and bright. A splendid bouquet, deep and charming attracts the tasters. The scents of red and black fruits well integrated in the oak, the smell of oriental spices and sandalwood invade a perfumed nose and invite you to tasting.
A gourmet wine, crunchy and pulpy, that presents a vivacity/smoothness balance for a digestible finish and a great frankness."
For more than 25 years, the guide travels the vineyards to meet winemakers, and pubishes the results of very complete tasting briefs.
Hundreds of samples are blind tasted according to appellations by the tasting committee. Each edition presents several appellations and one selection of the best vintages available for sale. The credibility of information is garanteed by the total absence of winemakers and cellars advertising. Only 25% to 30% of the shortlisted wines on the spot appear in the guide.
http://www.vinsetterroirs.be
---